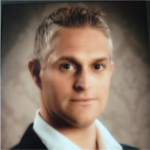 Dale is a co-founder of Bulletproofbodies UK, a University Lecturer in Physiotherapy and an adventure athlete. He is a former Army Physical Training Instructor, Royal Marines Commando and British Army Physiotherapy Officer.  He has over 23 years Military service, with operational tours of Iraq and Afghanistan and is currently serving in the Royal Army Medical Corps as a Reservist.
​He has a special interest in CrossFit, working as the Physiotherapist for most of the major UK and European CrossFit competitions, including Regionals. Currently, Dale exclusively works with Tactical and CrossFit Athletes.
​Dale has a Master's of Science Degree in Exercise & Sports Medicine, with Bachelor Degrees in Exercise Physiology & Nutrition and Physiotherapy. He is a full member of the UK Chartered Society of Physiotherapists (CSP) and has a CrossFit Level 1 certificate.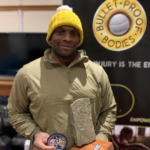 Uzo Ehiogu is a co-founder of Bulletproofbodies and a Specialist Physiotherapist in the UK with a special interest in CrossFit and strength and conditioning. 
He is a former Royal Marines Commando, Special operations solider and British Army Physiotherapy Officer, who has a Masters of Science Degree in Physiotherapy and Bachelor Degrees in Applied Sports Science and  Physiotherapy.
He is a full member of the UK Musculoskeletal Association of Chartered Physiotherapists (MACP) and a visiting lecturer at several Universities in the UK. Uzo is a Certified Strength and Conditioning Specialist with the National Strength and Conditioning Association and is a conditioning coach with over 15 years of personal training experience.
BULLETPROOFBODIES IS A PHYSIOTHERAPY SUPPORT SERVICE AND CONSULTANCY FOR INJURY MANAGEMENT
Your body is your pay-check.
Your body is your primary weapon.
Utilising the 3 E's method of:
EDUCATE – EMPOWER – ENABLE
Bulletproofbodies are committed to supporting YOU on
YOUR journey to optimal physical work capacity, through
maximal gains.
In order to fulfil your genetic potential there will be some
significant discomfort on the way.
We aim to minimise your pains, to maximise your gains.
The reason we know so much about extreme training is the
fact that we are like YOU.
We train, eat, drink and rest with the sole intention of training again the next day.
We are NOT the Coach. We are the opposite side of the coin.
Our understanding of injury, disease and pathology is our
expertise.
We teach anatomy and physiology
We think about physical training in a medical way.
We go beyond muscles, to fascia, meniscus, discs and nerves.
We are about injury prevention, treatment and management.
But above all, we are like YOU!
There is nothing worse than not achieving your potential.
There is nothing worse than getting injured.
Injury is the enemy
So, we need to Bulletproof our bodies against it.
Injury prevention, management and rehabilitation is our business.
With years of valuable rehabilitation experience from the British Military, Dale and Uzo are the Bulletproofbodies Boys.
Hear to help you get through your training injury-free.
JOIN THE BULLET PROOF BODIES WAY